If you are an avid traveler, you should have a bucket list. Floyd's Pelican Bar off the shores in Saint Elizabeth, Jamaica should be on it. Here's why..
Floyd's Pelican Bar is a top attraction in Jamaica and has been dubbed "Coolest bar in the world" by multiple travel magazines and blogs. Some visitors has refer to Floyd's as "a once in a lifetime experience" while others have said "it's not a normal bar."
This is a small bar built out of driftwood on stilts, with thatch roof and the most unusual décor you will ever see in a bar. There's a make shift ramp where the local fishermen and boat tour operators dock their vessels.
It sits approximately three quarters (3/4) of a mile offshore in the Caribbean Sea. The only mode of transportation to get to the bar is an exciting 10-minute boat ride from shore… if you are traveling from Parottee Point, Saint Elizabeth.
If you have plans to visit Floyd's Pelican Bar, we've put together a step-by-step guide covering the history of the bar, how to get there, nearby hotels, attraction, and other things you need to know. Before you go in 2024…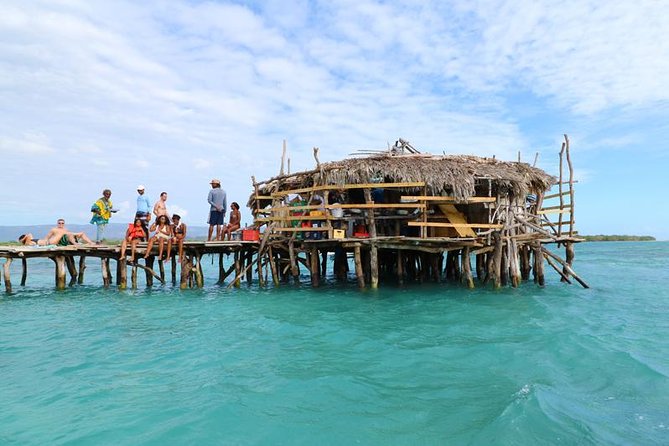 ---
The History of Floyd's Pelican Bar
Floyd Forbes, a local fisherman from the parish had constant ruminations of building a bar in the ocean. After years of deep thoughts of his ocean bar, owner Floyd Forbes finally made his dream into a reality.
He finally constructed the Pelican Bar in 2001 after months of taking wood and other building materials by boat. Floyd came up with the idea for the name from a nearby rocky sandbar, where a flock of Pelicans rested.
When telling this story of how he constructed the Pelican Bar, he always notes that the bar was meant to be a watering hole/chill spot for him and his fishing buddies after a hard day's work. However, the bar started to become world-famous after nearby resorts began telling their guest about this unique bar in the middle of the ocean.
Seventeen (17) years later, Floyd's Pelican Bar is one of Jamaica's most unique and famous bars. During his years of operation, there have been ups and downs for the bar… he even lost the bar at one point.
A Catastrophic Event Occurred
In 2004, Floyd lost his bar to Hurricane Ivan. The category 5 Hurricane caused widespread damage in the Caribbean and United States and Floyd's Pelican Bar was no exception.
The bar was completely destroyed by the natural disaster and Floyd had no insurance to cover the cost of the damage. The bar had become a staple to the community, local business owners appreciated the visitors it brought to the small resort town of Treasure Beach and couldn't afford to lose it.
Community members came together and funded the reconstruction of the bar. Jake's Hotel in Treasure Beach donated the lumber needed to reconstruct while others chipped in and the new bar was completed within a month.
Getting to Floyd's Pelican Bar from your Resort
Getting to the Pelican Bar will take a 10 to 25-minute boat ride… depending on where you board the boat. Local fishermen operate their vessels daily as a mode of transportation to get there.
Boat rides are available daily to the bar from Parrotee Point, Treasure Beach, and Black River. The quickest way to get there is from Parrotee Point which is only 10 minutes, however, it will be a long boat ride otherwise.
BOAT TRAVEL TIME AND COST:
Parrotee Point – 10 Minutes Ride – $10USD
Treasure Beach – 25 Minutes Ride – $25USD
Black River – 25 Minutes Ride – $20USD
VEHICLE TRAVEL TIME FROM RESORT TOWNS:
Before you get to enjoy that 10 to 25 minutes adventurous boat ride, you need to get to the boats. Whether you are staying in the South Coast, Negril, Montego Bay or Ocho Rios, there are local tour operators you can call and book a day tour. If you have plans or thinking about visiting the Pelican Bar you can make a reservation using this form.
HOW FAR IS FLOYD'S PELICAN BAR FROM: –
Falmouth Cruise Ship Port: 2hrs & 24 minutes (122km)
Ocho Rios "via Hwy 2000": 3hrs & 36 minutes (165km)
Montego Bay: 2hrs (93.0km)
Lucea, Hanover: 1hr & 50 minutes (85.0km)
Negril: 1hr & 31 minutes (81.8km)
Sandals Whitehouse "South Coast": 33 minutes (29.1km)
Data courtesy of Google Maps**
POSSIBLY THE COOLEST PLACE IN THE WORLD!
We would recommend this excursion to those of us who appreciate the outdoors, beautiful scenery, adventures, relaxation, and a little rustic feel.  If you seek a bar with beautiful counter-tops, plush bar stools, and a fancy dressed bartender, then this isn't for you.
Upon arrival, you will immediately take notice of the driftwood structure (shack) with a docking area. It is the perfect place to spend the entire day doing nothing but drinking a few beers, enjoying some fresh seafood, and socializing with locals and visitors alike.
Many visitors choose to simply sunbathe on the dock, go for a swim in the shallow water, or even bring some fishing gear and catch your own lunch. While you are there you will witness local fishermen docking with the fresh catch of the day. You can watch as they scale and prepare your food.
Fresh Fried Fish, Jerk Lobster, Curried Lobster, and other seafood options are available at the bar. The food choices are limited but out of this world with flavor as stated by many visitors.
PELICAN BAR MENU AND PRICES:
The Pelican bar (very limited) menu includes:
Fresh Fish served with Rice and Vegetables: $18USD
Fresh Lobster served with Rice and Vegetables: $20USD
Jamaican Sodas: $2USD
Rum and Coke: $7USD
Red Stripe Beer: $4USD
Dragon Stout: $4USD
Jamaican Rum Punch: $6USD
CHECKLIST BEFORE VISITING PELICAN BAR JAMAICA:
Before you go here are a few things to take along with you and have done before going.
Take Cash. The Pelican Bar does not have any ATMs or Credit/Debit card machines, so cash is king. Visit a local Cambio before going as prices are better when paying with Jamaican currency. Floyd's also accept U.S. currency.
No Bathroom. To many visitors, this isn't an issue but to whom it may concern. Please make a bathroom stop before heading to the boats, THERE ARE NO BATHROOMS AT FLOYD'S…
Aqua Shoes. We suggest that you bring a pair of water shoes if you plan on swimming or walking around the bar. There are man sea urchins in the sand which could ruin your day. You can get a pair from Amazon for less than $10.
Bring a Shirt, Flag, or License Plate. Floyd will proudly add it to the collection of memorabilia from visitors worldwide.
Have your names carved into the floor of the deck or bar.
OTHER ATTRACTIONS NEARBY PELICAN BAR IN JAMAICA
Most private tour companies in Jamaica offers daily tour packages that include The Pelican Bar. We recommend choosing one of these options since you get to have a day of adventure for one affordable price.
There are other fascinating attractions close-by which streamlines the day tour. Most tours to the bar will also include the Black River Safari Tour, Appleton Rum Tour, and or the YS Falls. All three attractions are less than an hour from each other, making it easy to tie two stops on a day tour.
South Coast has other lesser-known attractions that could be added to your day excursion. Lesser-known South Coast Jamaica attractions include.
Lover's Leap: – A local restaurant perched on top of a cliff with a beach 1600-feet below. This is an ideal spot for honeymooners in Jamaica or for a spectacular sunset/moonlight proposal.
Accompong Town: – A historical Maroon village located in the hills of Saint Elizabeth, Jamaica. Located in the Cockpit Country, the village features a rich history of Maroons and indigenous Taíno tribes from the 17th century.
Little Ochi: – Local restaurant located in Aligator Pond. The quint restaurant is known for its seafood selection including fried and jerk snapper fish, fried, and jerk lobster.
Bamboo Avenue aka "Holland Bamboo": A magnificent sightseeing opportunity along the Saint Elizabeth main road. A 2.5 miles stretch of road between Lacovia and Middle Quarters lined with Bamboo plants that forms a canopy-like arch over the road.
Shorty Tours is registered with the Jamaica Tourist Board and will help you create an itinerary.
Call Shorty Tours: +1876 372-3360
eMail Shorty (George Graham): ShortyTours20@gmail.com